Galloway hillside wild fire 'under control'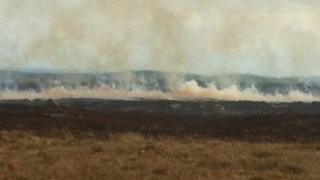 A large wild fire which started on a hillside in Galloway at the weekend is being brought under control.
The blaze, which broke out shortly before 18:00 on Sunday, had been spreading on three fronts several miles wide in the Mochrum area of Wigtownshire.
Dumfries and Galloway Fire and Rescue Service said the fire was almost under control by Monday evening.
But crews were likely to remain at the scene for some time.
It is understood the fire started as a controlled burn, which spread.
At one point, it is said to have stretched for about four miles and had spread into the Loch Head area.
Forestry Commission Scotland, landowners and firefighting personnel had been withdrawn on Sunday night due to safety considerations.
One fire engine was left to provide rapid reaction to any fires nearing properties.
In the morning, 25 firefighters returned to what the fire service described as a "very serious incident".
The fire service urged people in the area to be "extremely careful" when setting controlled burning, camp fires or discarding smoking materials.
"The ground is extremely dry and small fires in grass and woodland can rapidly spread out of control," a spokesman warned.