'Ashamed' Galashiels robber Eric Haig avoids jail term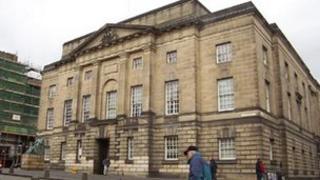 A robber who told police he was "ashamed" of his part in an attack on a vulnerable man has avoided a jail term.
Victim Dale Murray, 44, was beaten up and held hostage while Patrick Wallace tried to plunder his bank account.
As Eric Haig sat beside Mr Murray in his Galashiels flat, he said: "This is not right. I'm really sorry about this. It's out of line and it's bad karma."
Wallace, 42, is serving a five-year sentence for the robbery but Haig, 49, was given a community payback order.
At the High Court in Edinburgh, Lord Bracadale told him: "I accept your role in this incident was markedly different from that of your co-accused, who also had a formidable record of previous convictions."
He ordered Haig, of Gala Park, Galashiels, to carry out 200 hours of unpaid work and to get help for his drink problem.
Solicitor advocate Andrew Houston, defending, said Haig had not met Wallace before the day in July last year when the attack took place.
He said his client had not known what was going to happen when they went to Mr Murray's address in Scott Street.
After his arrest he told police: "I am thoroughly sorry about the whole thing. I am ashamed of myself."
In court, Haig admitted detaining Mr Murray against his will, assaulting him to his injury and robbing him of a wallet, bank card and £100.
Mr Houston said Haig had not personally attacked Mr Murray but had gone along with what happened.
The court heard how Mr Murray had been supported by his mother until she died in 2004.
He answered a knock on his door last July to find Wallace - who he knew - and Haig standing there.
Wallace then punched Mr Murray, demanding money.
As Mr Murray sat on a couch, Wallace sat beside him and elbowed him in the face, causing his nose to bleed.
"I want your bank card," he said and then demanded Mr Murray's PIN number.
Wallace went to a nearby cash machine and returned claiming he had been given the wrong pin.
A second attempt to use the cash machine showed there was less than £100 in Mr Murray's account.
The two men threatened to stay in Mr Murray's flat until after midnight, when they believed a deposit would top up the account, and began to drink his beer.
Mr Murray then arranged to pick up £100 from a friend to get rid of his attackers.