Dumfries and Galloway and Borders councils see changes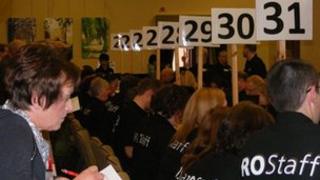 Voters in southern Scotland have shuffled the pack of their elected representatives at council elections.
The Nationalists and Independents were the main victors in the Borders, with increased seats - mostly at the expense of the Lib Dems and Conservatives.
However, the Tories remained the biggest single group meaning another coalition administration is likely.
In Dumfries and Galloway, it was Labour who won most seats but with no outright majority they will need partners too.
The results flowed more quickly at Scottish Borders Council where the final make-up of the elected councillors was 10 for the Conservatives, nine for the SNP, seven independents, six Lib Dems and two for the Borders Party.
The political picture there was clear by early afternoon.
It could leave the door open for the same administration as on the last council - a Conservative, Lib Dem and Independent coalition.
There is also the potential for the same leader with David Parker having been returned once again.
Matters moved more slowly in Dumfries and Galloway where results were not completed until later in the day.
Leader of the old ruling coalition, Conservative Ivor Hyslop, was also re-elected but had to wait until the fifth stage of the count before making it through in the Lochar ward.
It was an indication of a slightly changed political landscape in the region.
His party is no longer the biggest one on Dumfries and Galloway Council with that honour going, narrowly, to Labour.
They took 15 seats to the Conservatives' 14, with 10 for the SNP, five independents, two without any designation and one Liberal Democrat.
Negotiations will be under way soon with the main parties saying they were prepared to hold talks with all prospective partners.
In the Scottish Borders the overall turnout for the region was just under 42% with acting returning officer Ian Wilkie saying he was "very pleased" with how the count had run.
"We've managed to get results out extremely quickly and most importantly we delivered a safe and accurate result, one in which the public, councillors and the wider stakeholders can have confidence in," he said.
"We welcome all 34 elected members to Scottish Borders Council.
"I must also pay tribute to all of the candidates who have been involved in a well fought and good spirited election."
Indications in Dumfries and Galloway were that the turnout had been a little higher, at an estimated 44%.