Dumfries DG One centre forced to close training pool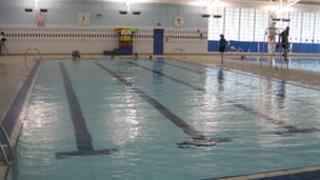 A training pool at a multi-million pound leisure centre in Dumfries has been forced to close to the public.
A statement from Dumfries and Galloway Council said technical problems were being investigated by specialists.
The same pool was shut in 2009 - just 17 months after it opened - to allow a moving floor and tiling to be replaced.
The council said that until the investigation by specialists was complete it would not have an estimate of the reopening date.
The DG One centre opened in May 2008 - on budget but several months behind schedule.
Within two weeks a section of the pool had to shut due to tiles coming loose, which was described at the time as a "snagging issue".
However, by September 2009 it was announced that a lengthy and complete shutdown of the training pool was required to allow a moving floor and tiling to be replaced.
Last year the council called in specialist surveyors to establish the cause of repeated faults with the £17m building.
Problems with swimming pool tiles had surfaced earlier in 2011, prompting an investigation into the cause.