Eliska Novotna murder trial hears of sex toy find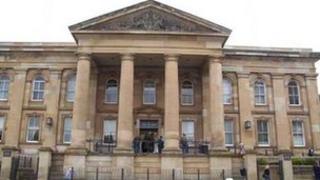 A court has heard how police investigating the death of a man allegedly murdered by his housemate found "sex accessories" in his bedroom.
Eliska Novotna, 23, admits stabbing Arunas Ramanauskas up to six times at a Peebles farm house in October 2011.
However, she denies murdering the Lithuanian - claiming she was acting in self-defence as she feared being the victim of a sex attack.
The trial at the High Court in Dundee continues.
Det Con Stuart Campbell told the court that he was called in in his role as crime scene manager to oversee a search of the property on 10 October.
He said: "The parameters of the search were to look for clothing, any weapon that may have been used and any items relating to violent sex and bondage."
PC Ross Parker said he had taken part in the search - and had carried out the duty of logging every item found.
He said: "I maintained the search schedule - noting what was found, where and by whom."
He said items found in Ms Novotna's downstairs bedroom at the farmhouse included a condom wrapper, a knife, a DVD recorder, USB sticks and pay slips.
The officers had then moved upstairs to Mr Ramanauskas's bedroom.
Delivery notes
PC Parker said: "This was upstairs where the deceased was found.
"We found a knife, a watch, a diary, a chequebook, bank cards, driving licences and some other cards.
"We then found a Durex box in the bedside cabinet.
"And then we found a parcel containing sex accessories."
It was found in a bedside cabinet and contained a number of items.
Police also found delivery notes addressed to Mr Ramanauskas - with the trial earlier told that the package had been delivered to him and accepted by Ms Novotna on the day he died.
PC Parker added: "The delivery address is for Arunas Ramanauskas at East Happrew Farm and it is for sex toys and lubricant."