Pool donation tribute to Lockerbie victim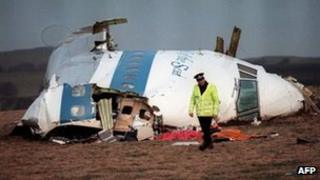 The parents of a young woman killed in the Lockerbie bombing have donated money in her memory to a fund set up to build a swimming pool in the town.
John and Jean Bacciochi gave £12,500 as "a token of their gratitude" to people in the area.
They said residents helped them through the death of their daughter Clare, 19, and her fiance Clayton Flick.
They had been flying to New York to celebrate their engagement when the plane blew up over southern Scotland.
The young couple from the Midlands were among 270 victims of the 1988 atrocity.
The Lockerbie swimming pool fund has now raised more than £400,000 towards its £2m target.
Mr and Mrs Bacciochi sent a message of thanks to the people of Lockerbie and the surrounding area along with their donation.
It said: "We will never forget the love and care you gave to us and our family during those very sad times.
"Thank you - God bless you all."
Kevin Baker, who chairs the swimming pool action group, described it as an "incredibly generous" donation.
"Their enthusiasm to help our community has been second to none and we cannot thank them enough," he added.
He said the donation would be a "vital kick-start to the re-ignited campaign to provide a swimming pool in Lockerbie".
The fund hopes to reach its £2m target within the next three to five years.