ATH Glenmuckloch job fears over coal mine deferral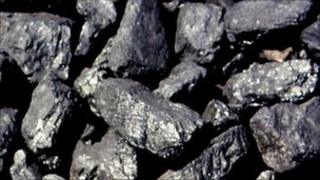 Fears have been voiced that up to 60 jobs could be lost after plans to expand an opencast coalmine in southern Scotland were deferred.
ATH Resources blamed the decision at its Glenmuckloch facility on the falling international price of coal.
It said its board would review the case to take forward or drop the expansion plans entirely by the end of the year.
MSP Elaine Murray said any job losses would be "terrible news" for an area where unemployment was already high.
The Labour representative for Dumfriesshire said both herself, and local councillor John Syme, had arranged a meeting with ATH for early next week.
Mr Syme commented: "This is an absolute hammer blow for our area - which already suffers from a high level of deprivation.
"The present situation means that people are already looking for jobs that just are not there.
"Even a small number of redundancies has a massive impact on our area."
South of Scotland SNP MSP Joan McAlpine said she had also arranged to meet with the company over her concerns that jobs would be lost.
"This is dreadful news for communities such as Sanquhar, Kirkconnel and Cumnock that are already struggling with high levels of unemployment and deprivation," she said.
"Not only is it devastating for the workers and their families - the wider community relies on £50,000 a year in development grants from the opencast which will be threatened if the mine closes.
"The company cite the falling price of coal internationally as the reason for the redundancies - but that will not last forever."
A statement on the ATH website confirmed the decision to defer the expansion but did not mention any redundancies.
"Whilst demand for coal generally remains strong, international coal prices have fallen significantly over the past nine months and in particular over the past few months," it said.
"The board will review the investment case to either proceed or begin final restoration of the current site towards the end of this calendar year.
"The deferment will have little impact on production levels in the current financial year but, if ultimately a decision was made not to proceed with the site at all, volumes would be reduced by approximately 500,000 tonnes in total over the subsequent two years."
Shares in ATH Resources plunged by 25% on the news. The share price stood at 10p at 12:30.
ATH secured council approval for the expansion last year.
It said at the time it would safeguard 90 jobs.