Double rescue in Galloway hills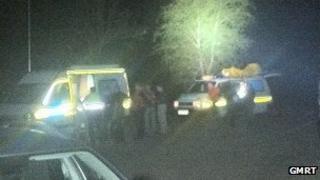 Rescue teams were called out twice on the same day to help trace walkers who had got lost in the Galloway hills.
Both incidents happened in the Glentrool area on Thursday.
In the first, an 82-year-old hill walker lost his bearings in the hills near the Merrick - the highest peak in the south of Scotland.
The second walker was a 36-year-old man from the Netherlands who went missing in woodland. Both were traced safe and well.
Galloway Mountain Rescue Team was called out to the first incident at about 09:30.
The 82-year-old, from Northern Ireland, had been out on the hills overnight but was in contact via a mobile phone.
It was eventually discovered that he had walked about 12 miles off course and he was traced at Drumjohn, north of Carsphairn.
The second callout came about 12 hours after the first.
The man from the Netherlands had been walking with family but decided to carry on alone.
As darkness fell he had not returned to his accommodation and rescuers began a search of forest areas around Loch Trool and Stroan Bridge.
The man was found shortly before midnight.
GMRT leader Mike McCann said it was a long time since they had had two callouts in one day and it was "quite a coincidence" they had started in the same area.
"The first callout was particularly interesting since the fitness level of our 82-year-old lost walker meant he had walked much further, and completely in the opposite direction, to what he had intended," he said.
"A telephone conversation with him allowed us to determine his location by the description of the nearby landmarks.
"Otherwise we might have been searching for some considerable time."
GMRT said the two incidents illustrated just how popular the area was for walking and other outdoor activities.
However, it added that the hills could be "particularly challenging" and that walkers often underestimated how difficult it could be to navigate pathless wild locations.