Kenny Edwards back on his bike after Knockhill crash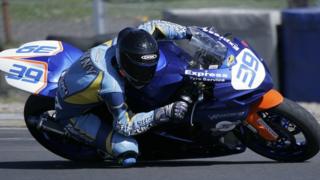 About four years ago it was "lights out" for Lockerbie racer Kenny Edwards.
Travelling at about 120mph along the Knockhill track - in an event he was not supposed to compete in - the crash took place which changed his life.
You can still watch the footage on YouTube, but it does not make for comfortable viewing.
It left him with a broken neck and a paralysed left arm and facing up to a very different future from the one he had imagined for himself.
Instead of competing in the Isle of Man TT as he had once dreamed, it seemed unlikely he would ever get back on a bike.
And yet, thanks to huge determination and expert surgery, that is exactly what the 30-year-old has achieved.
Even if, he admits, his parents are a "little concerned" that he is back in the saddle.
The date 4 October 2008 remains firmly stamped in his mind.
"It was the last meeting of the year, which I wasn't even going to go to," he recalled.
Instead, he was asked to represent his country at the Jock Taylor Trophy memorial meeting.
"Obviously I took the opportunity to go and represent Scotland - I had done it before and it is something I have quite enjoyed doing," he said.
"It was just the final week for us and it was only at Knockhill so it was a circuit I knew quite well."
Extremely wet conditions made the track more difficult but the Dumfries and Galloway rider was keen to make his mark against top quality opposition including the likes of Niall Mackenzie.
"I was fortunate enough to qualify in pole position on the 600cc bike," said Mr Edwards.
"I had about a two second lead after five laps but unfortunately there was a rider injured so the race was stopped and there was a restart.
"After the restart I was down about third or fourth into the first corner."
He pulled back to second place as the hairpin approached.
"I just couldn't quite get grip," he said. "It was drifting me into the middle of the circuit where you don't really want to be because it is quite bumpy and unsettles you going into the hairpin."
As he hit the brakes, he was thrown from his bike.
"I slid along the tarmac at about 120mph," he said.
"About four or five seconds later I was just about stopped and in the gravel trap and about to get up when it was lights out - it was pretty much a closing of the door."
His bike had burst into flames and then he was struck by another bike.
The next thing he remembers is waking up in the ambulance with his mother Margaret at his side.
"I think I was trying to describe how to set the bike up for the next race," he said.
"I didn't really realise that I was that badly injured."
As he was transferred from hospital to hospital, the realisation grew, and a slow rehabilitation process began.
Mr Edwards was referred to consultant plastic surgeon and BAPRAS member Andrew Hart of the Canniesburn Plastic Surgery Unit.
In order to give greater movement back to his left arm a complex series of procedures was undertaken.
Using the gracilis muscle in his thigh and an intercostal nerve from the ribs - followed by intensive physiotherapy - they were able to achieve that goal.
Mr Hart paid tribute to the determination of his patient and also the Dumfriesshire-based Stephen Forrest Trust which helps to fund research into the field of reconstructive surgery.
But although the physical recovery went well - Mr Edwards jokes he can "nearly feed himself" with his left arm now - there were mental scars too.
'Great healer'
"My confidence did take a bit of a battering after the accident," he said.
"You have got to be quite a confident guy to be involved in motor sport but I think I was a little bit self-conscious after the accident."
Friends, family and very understanding employers helped him through.
"They had to slap me round the face the odd time to say get yourself out of this grumpy mood - you are still here, you are one of the lucky ones so let's get on with it," he said.
The last piece of the jigsaw for a man so passionate about motorbikes was to get some kind of prosthetic brace from experts at Strathclyde University.
"I said if you can give me something that I can ride a bike with, I will love you forever," said Mr Edwards.
And, after trials at a disused airfield, he is now able to get back out on the open road.
He has also come to realise that what happened on that race day in 2008 could have been much worse.
"I needed time to adapt but time is a great healer," he said.
"But there will be a day where you have got to give yourself a shake and say I am still here, I have still got a good quality of life.
"I can still do 90% of the things that I used to do and there are plenty of people out there that can't do that 90% and you have got to think yourself lucky."