Dumfries and Galloway speedy tortoise escapes continue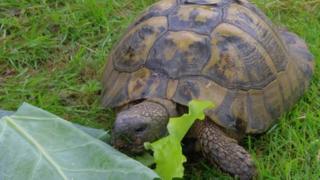 Another escaped tortoise has been found in Dumfries and Galloway - the latest in a spate of such incidents.
The Scottish SPCA believes good weather has prompted owners to leave pets in the garden to get some exercise.
The latest incident happened in Colvend woods near Dalbeattie when a tortoise, nicknamed Gonzales, was found.
Last week another pet - dubbed Whizz - was found trying to cross the B722 near Annan but has since been reunited with its owners.
Animal Rescue Officer Tracy Cannon said: "This is the second tortoise I've rescued in as many weeks which is quite unusual.
"We can only assume that the short burst of hot weather we had recently has resulted in them escaping from their owners' gardens.
"We don't expect Gonzales to have travelled too far from home, so it may be that his owner resides in the nearby village of Colvend and if so, we'd urge them to come forward to reclaim their missing pet."