Hawick's own Olympic Torch takes to the streets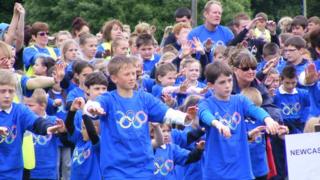 A town in the Borders which is not on the route for the official 2012 Olympic Torch tour of the UK has taken its own version to the streets.
Some 3,000 pupils followed it through the centre of Hawick to mark 2012 as the Year of Sport.
Local jeweller Hamish Smith crafted the torch which has a "flame" created by LED lights and powered by batteries.
The item had been hosted by all the schools in the town before being taken on a tour of its streets.
Once the torch had gone on a procession through Hawick there were a range of other events planned including their own "opening ceremony".
Master of ceremonies for the event at the Volunteer Park was local historian Ian Landles.
The morning saw everything from a parade of the local children dressed in T-shirts in each of the colours of the Olympic Rings, a mass zumba event, kick-boxing, a ceilidh, the release of multi-coloured balloons and a final song.
There was even the lighting of a brazier by way of an arrow fired by local archer Andy Logan.
One of the organisers, Ally Little, a depute at Hawick High School, said the gathering, and the build-up to it, should leave a lasting sporting mark on a community which has produced top-ranking sports men and women down through the decades.
"Children will be able to continue at grassroots level within the local area and build a legacy for Hawick and the Borders in terms of Olympians and outstanding sports people," she said.
The real Olympic Torch is due to travel through the Scottish Borders on Thursday.