Newcastle man admits causing Kirkcowan crash death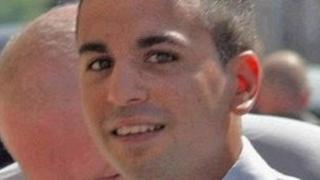 A Newcastle man has admitted causing the death of his friend in a crash on the A75 in southern Scotland last year.
Anthony Grant, 21, of Bellister Grove, told rescuers who fought to prevent him drowning that he was alone in the car.
However, his passenger - John Quinnin, 22, of Cramlington - was still in the vehicle at the time. He died after suffering a major chest injury.
Judge Lady Stacey said Grant had pled guilty to "very serious matters" and remanded him in custody.
He will be sentenced next month.
The High Court in Edinburgh heard crash scene investigators estimated Grant had taken a bad bend at an accident blackspot at 86mph while under the influence of alcohol.
His Vauxhall Vectra became airborne after its wheels came into contact with a kerb.
It hit a hazard marker post and trees before colliding with a telegraph pole and rolling down an embankment, landing on its roof in a marsh.
The first witnesses on the scene heard Grant screaming and shouting that he was drowning.
He warned that the water was just about to cover him.
One man contacted the emergency services and another made his way down the embankment.
Advocate depute Iain McSporran said: "He asked the accused if anybody else was in the car and he said he was just himself."
The prosecutor said that when emergency services arrived at the scene they believed there was only the driver in the vehicle.
"Police officers saw a bare arm submerged in water which they believed to be the accused's arm," he said.
"The accused was struggling to keep his head above water."
A paramedic smashed the driver's window with a torch and cut the seatbelt to free Grant from the wreckage.
It was only once he had been released that rescuers realised there was someone else in the car as they could still see an arm of the person who was submerged.
Mr McSporran said they found Mr Quinnin had no pulse and firefighters had to force open the front passenger door to get his body out.
The advocate depute said: "It was initially suspected that he may have drowned but this was not in fact the case."
Previous convictions
Grant went on to wrongly claim there had been three people in the car, prompting a search of the area.
Paramedics and police officers tending to him could smell drink on his breath and he gave a positive breath test.
In court, Grant admitted causing Mr Quinnin's death on 8 June 2011 on the A75 road near Kirkcowan in Wigtownshire by driving carelessly and while over the drink drive limit.
The court heard that Grant had previous driving convictions which stretched back to a juvenile court appearance in 2004, but had never previously been jailed.
Defence solicitor advocate Brian Gilfedder said that as a result of the tragedy, Grant had been attending counselling.