Scottish Borders Council meeting moves to Peebles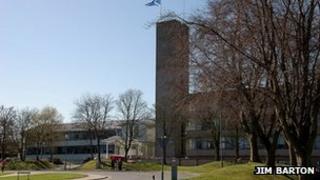 Scottish Borders Council is to hold a meeting away from its headquarters for the first time in eight years.
It said it wanted the public to "see at first hand" councillors debating issues affecting the whole region.
Instead of Newtown St Boswells, the next meeting of the authority will be held at Peebles High School.
It is part of plans to hold two meetings a year away from headquarters with another intended to be held in Berwickshire this year.
SBC convener Graham Garvie said: "I am pleased that the first meeting of the new council away from headquarters is being held in Peebles.
"This is a very good opportunity for people to attend the meeting and see how it operates at close hand."
He said there were some "significant items of business" on the agenda including health care, flood protection and the Borders railway.
"I look forward to seeing a full public gallery," he added.
The meeting gets under way at 10:00 BST on 21 June in the assembly hall at Peebles High School.
The last time a council meeting was held away from council headquarters was on 24 June 2004 in the Tait Hall in Kelso.