Eliska Novotna jailed for Peebles 'sex games' killing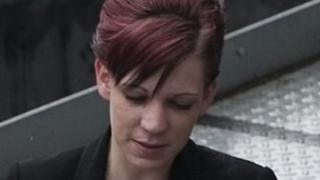 A woman who stabbed her housemate to death after "sex games" went wrong has been jailed for nine years.
Eliska Novotna, 23, tied up Arunas Ramanauskas with the cord of a dressing gown and blindfolded him before stabbing him six times.
She had admitted stabbing him at the farmhouse near Peebles in October last year but claimed it was self-defence.
She was charged with murder but a jury found her guilty of a reduced charge of culpable homicide.
Sentencing Novotna at the High Court in Edinburgh, judge Lady Clark told her: "As a result of the stabbing he died and you did nothing to assist him."
Lithuanian Mr Ramanauskas, 39, known as "Russian Ronnie", was found lying in a pool of blood in his bedroom - and police discovered sex toys in a bedside cabinet there.
Novotna admitted she had stabbed him at the Old Farm House, Easter Happrew, near Peebles but denied murder, insisting she had been trying to defend herself from his sexual advances.
After an eight-day trial in Dundee, a jury found her guilty of a reduced charge of culpable homicide.
Lady Clark said: "The circumstances were unusual and the jury obviously accepted that there was provocation in the form of some sexual assault on you at the time.
"That, of course, does not justify killing Arunas Ramanauskas.
"It does affect the way I deal with it."
She added that a lengthy prison sentence was inevitable to mark the "very bad conduct" and its "very terrible consequences".
The trial heard how the two - who worked on the same farm - went shopping in a supermarket in Peebles just hours before the attack.
CCTV footage showed them in the local Sainsbury's where they bought rum and strong lager.
Mr Ramanauskas invited Novotna into his room where they chatted about tattoos.
Sex act
Novotna, who had just moved into the farmhouse, claimed he started touching her "lovingly".
She tried to escape to the kitchen but he followed, trying to dance with her.
Novotna, originally from the Czech Republic, said she went back to his room where he took off her top and bra.
Again she ran, but went back into the bedroom armed with a knife.
She told how he tried to make her perform a sex act.
She tied the dressing gown cord round his neck and over his eyes and then stabbed him.
Novotna also claimed she was so scared of her housemate that she barricaded the door of her room and slept with a knife under her pillow.
Defence QC Jim Keegan told the court that she was not "callous" when she left Mr Ramanauskas dead or dying but her actions were automatic.
"She was just not thinking at all," he said.
The lawyer said Novotna also claimed she had been sexually abused as a child by her grandfather. Although there was nothing to back up her story, it fitted her psychiatric profile.
"It is a very tragic case," said Mr Keegan.