Hawick man Derek Kinghorn denies murder charge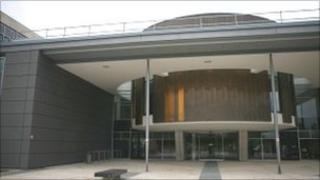 A Hawick man has appeared in court accused of murder in the town in November last year.
Derek Kinghorn, 44, denies repeatedly striking Brian Mair, 45, on the head and body with a knife, threatening to kill him and murdering him.
He also denies assaulting Amy Michaels in his home on 1 November 2011.
The first day of his trial at the High Court in Livingston heard a 999 call made by Ms Michaels while trying to keep her partner, Mr Mair, alive.
A jury heard her tell the operator: "Hurry, please hurry, there's been a stabbing.
"He's cut on the inside of his leg and it's gushing with blood.
"It's very serious bleeding."
Later in the call Mr Kinghorn was heard calling his daughter and telling her he had stabbed someone.
Giving evidence Ms Michaels, 46, told the jury that both men had been drinking and playing PlayStation at Mr Kinghorn's home on the day of the killing.
She said they had gone to get drink from an off-licence and had come back and were sharing a joke when Mr Kinghorn "flipped".
She said he had gone from his living room to the kitchen where she heard him slamming a drawer.
He returned with a knife and shouted at Mr Mair: "I'm sick of telling you. I warned you, I warned you."
Ms Michaels said he then made a stabbing motion towards Mr Mair's chest.
"Derek sliced him between the legs and pushed him towards the couch then started stabbing him," she said.
"He just kept plunging the knife into him, into his back, into his side.
"Brian couldn't do anything - his head was in the couch."
She said that when she tried to shield Mr Mair her hand got cut.
The trial, before temporary judge Michael O'Grady, continues.