Scottish Borders broadband snub claims contested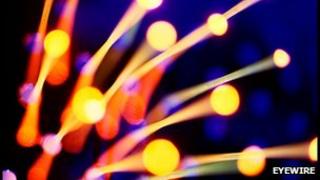 An MSP's claims that the Borders is being "ignored" for faster broadband services have been contested by BT.
John Lamont made the statement after no sites in the region were on a list of 21 locations in the latest round of superfast upgrades in Scotland.
The Conservative MSP said it would be a "blow" to many communities and businesses in the area.
A BT spokeswoman said the Borders had benefited from many previous announcements when other areas had not.
Mr Lamont said he could think of "no good reason" why the region had missed out on the list of locations due for an upgrade in 2013.
"There are still many towns in the region that are crying out for a better internet service," he said.
"In this day and age having a fast and reliable connection can not only be important for day to day life, but also for the many businesses we have in the Borders.
"These businesses now face an even longer period of being at a disadvantage to other regions of the country which do have access to fibre-optic broadband."
Improved speeds
He said the decision would have a "very negative impact" on the local economy.
However, a BT spokeswoman said fibre broadband services had already been confirmed for Galashiels and Peebles in the near future.
She added that Innerleithen, thanks to its local community, was in line to become the first town in Scotland to get its ultra-fast service.
BT has also delivered or is in the process of delivering improved speeds in Selkirk, Kelso, Eyemouth and Hawick.
The spokeswoman added that they would be happy to meet Mr Lamont to discuss his concerns.