Hawick murder trial hears paramedic evidence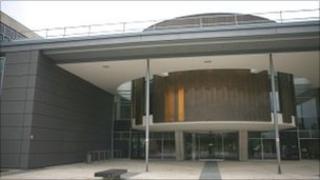 The trial of a Hawick man accused of murder has heard how paramedics fought to save his alleged victim's life.
However, a court was told there was little they could do for Brian Mair because he had so many injuries.
Derek Kinghorn, 44, denies repeatedly striking him on the head and body with a knife, threatening to kill him and murdering him.
At the High Court in Livingston, he also denies assaulting Amy Michaels in his Hawick home on 1 November 2011.
Paramedic Gregor Sharp, 44, and his partner Gordon Jackson arrived at the flat at Howegate in Hawick within five minutes of receiving a 999 call about a stabbing.
When they entered Mr Kinghorn's flat, they found Mr Mair lying on the living room floor and heard a man saying: "It was me. It's me you're looking for."
Mr Sharp said he could tell straight away that their patient was seriously injured.
He said: "I looked for life threatening chest injuries and I could see one straight away round about the heart area.
"The second was round about the right groin area.
"There was quite a lot of blood which had soaked the carpet."
Mr Sharp said there was "no palpable pulse" and very little, if any, chest rise to show the victim was breathing.
Initially they detected a normal heart rhythm but within minutes this deteriorated then "went flat line" indicating there was no electrical activity in the heart at all.
He added: "We initially had a period where we thought we might have a wee chance, but once we'd tried everything over maybe half and hour, 35 minutes we pronounced life extinct."
The jury trial, before temporary Judge Michael O'Grady, continues.