Dumfries and Galloway police receive positive report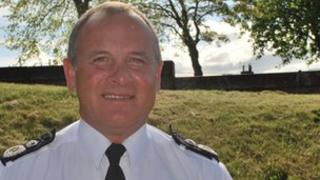 An inspection of Scotland's smallest police force has found it is performing to a "high standard" with crime rates among the lowest in the country.
Dumfries and Galloway Constabulary was assessed by the Accounts Commission and Her Majesty's Inspectorate of Constabulary for Scotland (HMICS).
They praised its "effective and visible leadership supported by a clear strategic vision".
The force is due to merge into one Scotland-wide body next year.
The inspection report - on both the constabulary and the region's police authority - has highlighted opportunities for further improvement.
They include continuing to develop its human resources and finance strategies in order to be responsive to community needs.
The need to maintain and improve performance and work with the police authority on an asset management plan as part of the transfer to a single Scottish force was also highlighted.
Overall, the Accounts Commission found working relationships between the police authority and the chief constable were strong.
It reported good leadership and links with communities and partner agencies.
It concluded councillors were well informed on policing issues and monitored the force's responsibilities but could have provided better oversight of longer-term police resource planning.
Chief Constable Pat Shearer said he was "delighted that the hard work and commitment given by staff over the years had been recognised" in the report.
"It was important to stress that the success of the force is clearly down to partnership working, with our communities and partners, under the watchful eye of the Police, Fire and Rescue Committee," he added.