Hawick murder trial told of drinking and drugs binge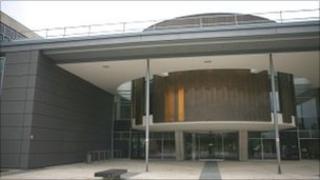 A murder accused has told a jury he remembered little of the night he was alleged to have killed his best friend after an all-day drink and drug binge.
Derek Kinghorn, 44, said he only became aware of anything untoward when he felt blood on his face from a head wound.
He remembered drinking 10 cans of beer and smoking several cannabis joints earlier in the day.
Mr Kinghorn denies murdering Brian Mair and assaulting Amy Michaels in his Hawick home in November last year.
He told the High Court in Livingston that he and Mr Mair had been playing Playstation games and drinking and taking drugs since 10:00 on the day in question.
Just before 19:00 Mr Kinghorn phoned a dealer to have more drugs delivered.
He claimed the large kitchen knife, identified as the murder weapon, would have been brought into the room to divide up a lump of cannabis resin although he could not remember this happening.
Mr Kinghorn said he had no memory of going out drinking at The Imperial Bar in Hawick with Mr Mair after the drugs had been delivered to his house.
'Perfectly lucid'
He said he also could not remember returning home at about 23:00 and repeatedly knifing his friend over a "jokey" remark made about his mother.
He said: "The next thing that I remember is that Brian was lying on the floor."
Mr Kinghorn admitted, under questioning, that he was annoyed by Mr Mair's regular habit of making comments referring to his mother.
He told the jury: "I found it offensive.
"He didn't know my mother and I found it disrespectful to talk about someone else's mother.
"I just kept asking him to stop saying it."
The trial also heard from PC David Jamieson who detained Mr Kinghorn at his flat on the night of the killing.
He noted that the accused had claimed he had been attacked first and that he was allowed to defend himself in his own home.
"He seemed perfectly aware, perfectly lucid," he added.
The case was adjourned.