Hawick man Derek Kinghorn found guilty of murder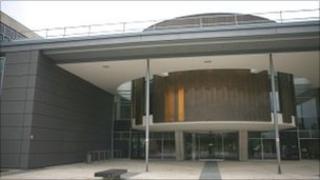 A jury has found a Hawick man guilty of murdering his drinking partner because he was offended by a bad joke.
Derek Kinghorn, 44, stabbed Dunfermline-born Brian Mair to death after he made a joke about his mother.
Temporary judge Michael O'Grady told him he had been convicted of carrying out a "dreadful" crime in his Hawick home in November last year.
He was acquitted of assaulting Amy Michaels after the Crown withdrew the charge. Sentence was deferred.
Kinghorn had denied repeatedly striking Mr Mair on the head and body with a knife, threatening to kill him and murdering him on 1 November 2011.
Giving evidence he had told the High Court in Livingston he found Mr Mair's joke "offensive".
"He didn't know my mother and I found it disrespectful to talk about someone else's mother," he said.
"I love and respect my mother and I don't like someone saying anything about her."
The judge told him it was a crime which was as cruel as it was "senseless and inhumane".
"You have taken the life of someone you have called friend for reasons I suspect no-one can even begin to fathom," he said.
"No sentence I can pass can bring any comfort to his son or to the family and friends of Mr Mair.
"There is only one sentence I can impose and that is one of life imprisonment but, given your record, I consider it necessary to obtain background reports before passing sentence."