A bold plan for senior pupils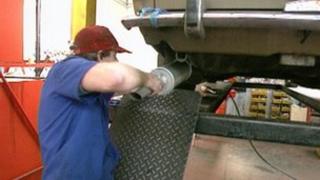 This bold plan raises the prospect of pupils having a dazzling choice of subjects around the time of their 15th birthday.
Currently there is only a limited selection in most secondaries as it is expensive to run classes in subjects with small numbers of pupils.
Advanced Highers and even courses like Higher French are not presently an option in some schools.
Under the plan a wider range of vocational subjects may also be on offer as a bigger pool of pupils makes it more cost effective to invest in training facilities for say hairdressing or car mechanics.
There may not even be a need to make this kind of investment in facilities if the new senior school is sited on Crichton Campus , already home to a further education college and an outreach of the University of the West of Scotland.
An exciting range of subjects and facilities may motivate pupils who currently struggle to work up enthusiasm for school.
The Scottish Government says it welcomes the proposals - opening up the intriguing possibility that a successful pilot could encourage councils in other parts of the country to adopt it. A similar system already operating in Northern Ireland may also encourage.
But before anything can happen Dumfries and Galloway council has to win the confidence of parents and of teachers. The EIS union says it is not opposed in principle but is concerned existing secondaries may eventually go through painful negotiations that lead to some closures. And it seeks assurances radical restructuring will not lead to fewer chances of promotion.