London 2012: The man selling Olympic football to Scotland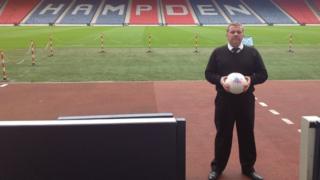 Sean McColm has put his 40th birthday celebrations on hold.
He is going to be a little bit busy, trying to make sure the Glasgow visit of some of the best male and female footballers on the planet goes without a hitch.
Only once the Olympic matches at Hampden Park are over will the Dumfries man be able to relax and let the party begin.
For now, he is fully focused on his role as London 2012's regional planning manager for Glasgow.
It is a post which combines his love for football with a knowledge of the rest of the world.
He spent 19 years working for the Foreign Office in places like Iraq, Jamaica and Pakistan prior to taking up this job.
It was an opportunity to see where Scotland stands in terms of its obsession with football.
"Living and working overseas I had the opportunity to go and see some games that otherwise I wouldn't have been able to see," he said.
It included the likes of Dynamo Kiev or CSKA Moscow.
"They are the sort of teams you heard about as a kid growing up but never once did I think I would go along and watch one of those games," he added.
"When I was abroad I took the opportunity to take in as many different football stadiums and football games as I could.
"I am just a keen fan.
"There are lots of countries that I have noticed that are passionate about their football but I certainly think Scotland is up there with the best of them."
There are concerns, however, that that love of the sport is not being reflected in ticket sales.
Last month BBC Scotland learned that two-thirds of tickets for Olympic football matches at Hampden Park were still unsold.
However, Mr McColm described sales as "good" and insisted an ever-changing picture was improving "hour by hour".
He said the response of the public to turn out and see the Olympic torch showed that Scottish people were enthusiastic about the Olympics.
And a big boost came when the provisional Spanish Olympic squad was announced - including three of its victorious Euro 2012 heroes and a host of rising stars.
"It is a once in a lifetime opportunity for people," said Mr McColm.
"For many people the Olympics won't come back to Glasgow in their lifetime.
"Here is a great opportunity to see the footballing stars of tomorrow on your doorstep.
"While many of the players may not be household names - they certainly will be in a few years to come."
That argument is certainly endorsed by history, looking back at the winning squad for Argentina four years ago.
It included the likes of Lionel Messi, Sergio Aguero, Angel Di Maria and Javier Mascherano.
Scotland gets its chance to see players who might turn out to be of similar calibre between 25 July and 3 August.
And after that one Doonhamer will definitely have cause to start a double celebration.