Experts downgrade weather alerts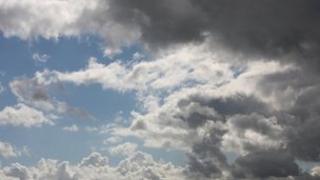 Several roads in the Borders have been affected by flooding, including the entrance to the region's main hospital.
The Met Office had earlier scaled down a weather warning predicting more heavy rain for many parts of eastern Scotland.
A yellow alert covers parts of the Borders, Strathclyde, Lothian, Central, Tayside and Fife, but an amber warning around Edinburgh has been lifted.
Flood alerts have also been put in place for Edinburgh and the Lothians.
The entrance to Borders General Hospital in Melrose was blocked by water on Wednesday afternoon but has reopened.
Many other roads in the Melrose area were also affected - as were main routes around Selkirk, Jedburgh and Peeblesshire.
A Scottish government spokesman said: "The Met Office has today downgraded its amber warning of heavy rain for Edinburgh and the Lothians to yellow.
"While this is encouraging news we are not complacent.
"A meeting of the Scottish government's resilience team involving representatives from Transport Scotland, the Met Office, emergency services and Sepa took place this morning to receive an update on preparations."
He said the resilience team was confident appropriate planning and resources were in place.
"However, we would advise the travelling public and motorists to take extra care in areas that are still expected to experience heavy surface water, downpours and potentially difficult driving conditions," he said.
"The Traffic Scotland control centre continues to monitor the travel situation very closely and liaise with key partners including ScotRail, Network Rail and operating companies.
"Network Rail is monitoring rain levels at stations and Sepa will also continue to keep a very close eye on the flooding risk."