Wickerman Festival drugs and alcohol plea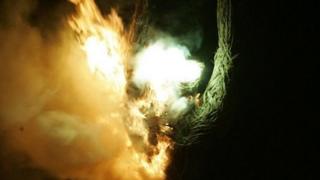 Police have urged anyone attending the Wickerman Festival in south west Scotland to be aware of the dangers posed by substance misuse.
It comes ahead of the event at East Kirkcarswell Farm near Kirkcudbright on Friday and Saturday.
Police are particularly concerned about people consuming excess alcohol and the dangers of legal highs.
Insp Amanda Scott said she recognised it was known as a "family festival" but felt the warning remained necessary.
The Wickerman Festival starts on Friday and is headlined this year by Scissor Sisters and Texas.
Insp Scott said that, along with event organisers, police wanted this year's event to be an "enjoyable experience for all".
Barbara Zaman, of the Dumfries and Galloway Alcohol and Drug Partnership, added: "We would like everyone attending the Wickerman Festival this weekend to ensure their experience is a safe one.
"Remember the dangers substance abuse can bring, substances can affect everybody in a different way and what might be okay for your friend may not be okay for you.
"Be aware of the risks of taking psychoactive substances - also known as legal highs - as there is no way of knowing what you are getting when you take any substance.
"There is also an increased risk of overdose if you mix drugs with alcohol."
She encouraged festival goers to drink responsibly by "pacing themselves", possibly by alternating alcoholic drinks with soft drinks.
A voluntary breath test initiative is available on the Saturday and Sunday morning for anyone thinking of driving off the site.
NHS Dumfries and Galloway's public health consultant Dr Andrew Carnon said: "Our advice to people going to the Wickerman is simple: keep safety in mind, limit how much alcohol you drink, and don't take non-prescribed drugs.
"If, however, you have taken non-prescribed drugs including "legal highs", it is really important that you don't combine them with alcohol.
"If you feel unwell or you are worried about a friend, please get immediate advice from the on-site medical team."
DC Scott Jardine, substance misuse coordinator for Dumfries and Galloway Constabulary, added: "We would like to reinforce the statements of our partners about the dangers of over-indulging in substance use."