Eyemouth harbour accident site lifebelt action call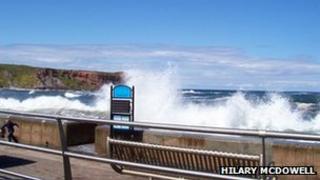 A bid is being made to raise funds for life-saving equipment at a harbour where a teenager was seriously injured after being swept out to sea.
Katie MacLean, 14, was trying to pull a friend to safety when waves washed her off steps at the Eyemouth harbour wall.
At the time of the incident, nearly two months ago, there was no safety equipment in the area.
One lifebelt has now been put in place but local residents and businesses want to provide more.
Brian Judd, who lives in the area, said it was time for action.
"What we are hoping to do really is raise some money to buy lifebelts and rings," he said.
"We have already got one and we have got promises and support from businesses to get more.
"We are hoping that the council will chip in and help us because I think it is really the council's responsibility to ensure beach safety."
Scottish Borders Council is currently carrying out an assessment of water safety provision in the area.
In a statement it said it wished Ms MacLean a "full and speedy recovery following what was a very distressing incident".
It added: "We as a local authority treat the safety of our communities as a priority and therefore we are taking this incident very seriously and have established a high level review group.
"This group is reviewing and assessing the water safety provision in Eyemouth.
"This will inform a council-wide approach to ensuring the best possible way forward, not just for Eyemouth but for water safety across the Scottish Borders."
It said SBC would keep the public informed of the progress of the work.
The council added that it already had a "well-established public education campaign" about the "safe manner in which to treat water".
However, Mr Judd said he did not feel there was time to wait for the outcome of the council review.
"It would be nice to wait but the trouble is it has already been two months and it really is too long," he said.
"What happens in the meantime if there is an accident and there is no equipment?
"I fail to see almost anybody arguing that there should not be a lifebelt on a seafront such as Eyemouth."