Samaritans biker visits Borders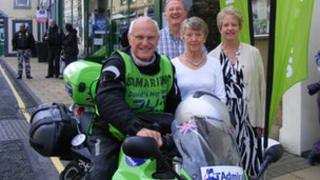 A charity biker has stopped off in the Borders on a trip round all 201 British branches of the Samaritans.
David Exley, himself a volunteer with the charity, was in Selkirk on the latest leg of a 6,000-mile motorcycle trip.
His aim is to highlight the Samaritans' 24-hour service, in memory of his brother, Tim, and son, James, who both took their own lives.
He is also fundraising for the charity with the trip.
He was welcomed by local volunteers in Selkirk, where the office handles face-to-face, email and telephone calls from those who are finding life difficult.
The Samaritans were founded in 1953 by London vicar Chad Varah and operate across the UK as well as in a number of countries worldwide.