Hawick's Wilton Lodge Park overhaul proposals unveiled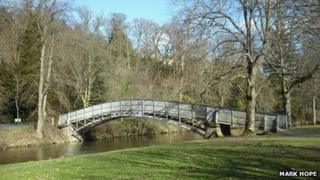 Plans have been unveiled for a £3m overhaul of one of the most picturesque public parks in the Borders.
The proposals for Wilton Lodge Park in Hawick include building a new cafe, footbridge, playpark and the reinstatement of the band stand.
Other plans are to renovate the war memorials and create an outdoor classroom for school visits.
Scottish Borders Council intends to contribute £600,000 and hopes for a £2.6m Heritage Lottery Fund grant.
The council's project manager Philippa Gilhooly said they were planning to open up the views throughout the park so that visitors could see how beautiful the park was with improved lighting and signage.
She added that the walled garden was likely to be restored and an area set aside for community food production.
It is anticipated that a decision from the Heritage Lottery Fund will be made by the end of the year.