Life for Hawick 'bad joke' murderer Derek Kinghorn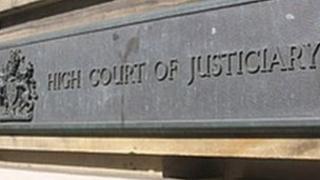 A Hawick man has been jailed for life for murdering his drinking partner.
Derek Kinghorn, 44, stabbed Dunfermline-born Brian Mair to death after he made a joke about his mother in November 2011.
Kinghorn had denied repeatedly stabbing Mr Mair, 45, on the head and body but was found guilty following a trial last month.
He was told the minimum period he would serve before any possibility of release would be 18 years.
During the trial, the jury heard Kinghorn had drunk 10 cans of beer and smoked several cannabis joints with the victim before the attack.
At the High Court in Edinburgh on Wednesday, Kinghorn's defence counsel, Neil Murray QC, said the attack had been an appalling act, and his client recognised the obvious distress it had caused for family and friends of both families.
Cowardly attack
Mr Murray said: "Whatever he did, it was totally and thoroughly out of character".
"Drink, of course, was involved in this incident. He does not see drink in any way as a mitigating factor and certainly does not use it as an excuse".
Kinghorn, Mr Murray said, had been devastated by the outcome of his actions.
Sentencing him, temporary judge Michael O'Grady QC said: "This was a dreadful crime. A brutal, cowardly attack on a man who was your friend.
"There was no provocation, you took the life of a young man who could expect many years of life before him.
"You killed him in the presence of his partner and she has been deeply traumatised."
As Kinghorn was led from the dock he gave a thumbs up sign to friends in court.