Bearded dragon Mo found on remote Kirkcudbrightshire road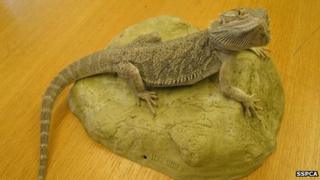 An animal welfare charity has asked the public for help after a bearded dragon was found on a Kirkcudbrightshire road.
A couple spotted the creature "basking in the sunshine" while walking their dog on Sunday.
It is now being cared for at the Scottish SPCA's animal rescue centre in Glasgow, where he has been named after Mo Farah due to his running ability.
The charity is also looking for the owner of two ferrets found wandering in a residential street in Stranraer.
Animal rescue officer Arianne Harkness said: "The couple who found them were outdoors enjoying the sunshine on Sunday when the ferrets appeared, one after the other, wandering down the street.
"We don't know whether the ferrets have been lost or abandoned but we're keen to see them in a loving home."
The albino females are both being cared for at Dunragit Kennels, Stranraer, where they have been named Freya and Fay.
Meanwhile, Insp Stewart Taylor said the people who found Mo had been "rather surprised".
"It's pretty unusual to come across a bearded dragon on a remote country lane," he said.
"Apparently he was just sitting on top of a fence basking in the sunshine.
"He's proving to be a really fast runner so there is a chance he has strayed from home, although we also have to consider that he may have been abandoned.
"We're keeping an open mind at this stage and we're very keen to hear from anyone who recognises Mo."