Dumfries and Galloway Council considers £27m in cuts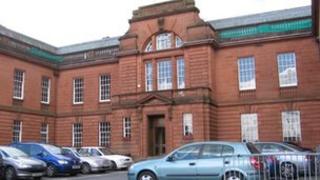 A further £27m could be cut from council spending in Dumfries and Galloway over the next three years.
The local authority is being asked to draw up a new savings programme to offset the continued squeeze on public sector funding.
Dumfries and Galloway Council has already cut spending by a little more than £24m in the past two years.
However, a report to councillors estimates that more reductions are likely to be needed in future.
The bulk of the savings already achieved has come from staffing cuts - with hundreds of workers having left through early retirement or voluntary redundancy.
Finance officials say fresh cuts will have to be identified over the next three years to absorb further anticipated reductions in local government funding.
It has been estimated that spending will have to be trimmed by up to £9.5m per annum.
However, that only includes provision for staff pay awards of 1% per year - and each single percentage rise above that figure would add almost £2m to the savings target.
The local authority also faces a host of other potential financial pressures such as the impact of welfare reform and rising energy costs.
Councillors will this week be asked to agree a process for setting the authority's next budget, including arrangements for the release and scrutiny of future spending proposals.