Bradley Wiggins set to race from Jedburgh to Dumfries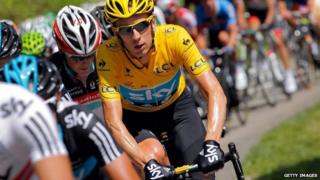 When I was a teenager, I dreamed of being Guido Bontempi.
It might have been a common enough aspiration if I had grown up in Italy, but it was not one shared by many in the south of Scotland.
Back in the 1980s, it seemed to me anyway, cycling was not a sport which generated much enthusiasm in the UK.
It smacked of eccentricity and remained the preserve of the history teacher who pedalled through the school gates with clips round his trousers and a tie flung over his shoulder.
Not exactly top of your list of teenage idols.
And yet, on my summer sojourns in Italy, I glimpsed a different world where cycling was enormously popular and its greatest practitioners widely revered.
It was enough to fuel my own biking excursions along the coastal roads and countryside of Dumfries and Galloway.
But they seemed like two realities which could never collide.
I was resigned to the fact that the land of my birth would never really "get" cycling, unlike that of my ancestors.
The idea of a Tour de France winner coming to the routes I regularly covered would have seemed outrageous.
A lot has changed in the last 20 years, however, and in a few weeks time that apparently impossible concept will become a reality.
Bradley Wiggins, fresh from triumph in Paris and at the London Olympics, will be cycling from Jedburgh to Dumfries.
That is a sentence worth reading more than once.
On 11 September, the outstanding cyclist of the year will set off from the Scottish Borders before crossing into Dumfries and Galloway and riding the same roads I did as a determined teenager - and still do to this day.
And his supporting cast is not bad either.
Sprint king and multi-stage winner at the Tour de France Mark Cavendish will also be part of Team Sky.
Former Giro D'Italia winner Ivan Basso from Italy has been confirmed for the race, much to my personal excitement.
The 2008 Beijing Olympic road race champion, Samuel Sanchez of Spain, is also expected to compete.
For a cycling fan, that's a bit like a supergroup of your favourite artists agreeing to do a one-off gig in your living room.
Sporting heroes
The transformation of the perception of the sport in the UK has seemed, to me at least, phenomenal.
A generation of outstanding Olympians and professional road racers has given cycling a profile which could hardly have been imagined a couple of decades ago.
The amazing crowds seen lining the streets in London were a sign of that enthusiasm.
Now Scotland gets its chance to duplicate those scenes in less than three weeks' time.
And it will surely mean that young cyclists of the future can pick their sporting heroes from much closer to home than I ever did.