Kenny MacAskill in Dumfries and Galloway police pledge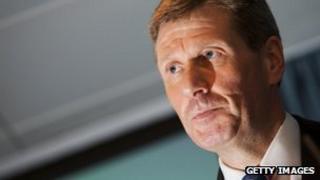 Justice Secretary Kenny MacAskill has guaranteed a "visible police presence" in Dumfries and Galloway when a single national force is created next year.
Speaking while visiting police headquarters in Dumfries, he also said he was impressed by initiatives to tackle issues such as rural thefts.
He insisted that work would not be diluted by the reform process.
Ch Supt Gary Small said he was pleased that Mr MacAskill recognised that rural areas needed imaginative policing.
Mr MacAskill visited Dumfries Prison prior to meeting representatives of Scotland's smallest police force.
Ahead of his arrival, Dumfries and Galloway Labour MP Russell Brown had urged him to give a commitment that moves towards a single force would not see jobs and services cut in the region.
The justice secretary said the Scottish government recognised that police on the streets deterred people who might commit crime.
He said he did not want to see a situation similar to that south of the border where thousands of officers were being lost.
"We are going to maintain our visible police presence in Dumfries and Galloway and elsewhere in Scotland to ensure that we keep our communities safe," he said.