Scottish Borders high streets suffer shopper drop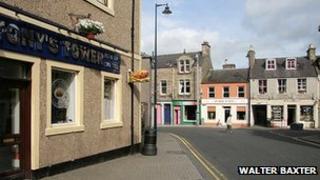 The number of shoppers in eight main towns across the Scottish Borders has dropped by about 17% in four years.
Figures suggest that between 2007 and 2011, average weekly footfall dropped from 46,380 to 38,400.
The towns which suffered most included Duns, where figures fell by more than a quarter, and Selkirk, where numbers were down by nearly a third.
Retailers hope town centre facelifts and a new relief road opening in Galashiels can help reverse the trend.
Hawick, Jedburgh and Kelso had registered rises in 2009 - but they too have now fallen back to below 2007 levels.
Even relatively healthy high streets such as Peebles and Melrose suffered a drop in line with the regional average.
The report for Scottish Borders Council found that the towns had remained "relatively resilient" at the start of the global economic downturn but had suffered more rapid decline in recent years.
The most popular shopping street in the region was Channel Street in Galashiels, with average figures several thousand higher than its closest rival, Hawick High Street.
The study also found that while pedestrian numbers had not fallen after major supermarket openings in Galashiels, they had done so after similar developments in Hawick and Kelso.