Dumfries Crichton Campus future plans drawn up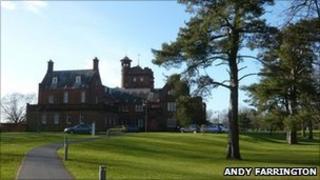 Dumfries and Galloway Council is to spearhead a 10-year plan to secure the future of the Crichton campus.
The move aims to keep the college, university and business complex at the forefront of education and innovation.
The local authority is to set up a sub-committee and will take a lead in the running of the site.
Funding has been earmarked worth £300,000 per annum for a period of five years, plus a further £100,000 to cover initial costs.
Convener of the Crichton Foundation, Dame Barbara Kelly, said the backing from councillors was a strong indication that the hard work of the current partners responsible for the campus over the past decade and a half would not go to waste.
"There has been a very full signal from the council that they are behind the future development of the Crichton quarter," she said.
"We have achieved a huge amount over the last 15 years.
"It was time for a review so that we could look at structures and funding for the next 15 years."
Council leader Ivor Hyslop said it was "great news" for the region, especially its young people.
"Our council will work with the universities, Scottish government, and especially with our communities to make sure that the Crichton gives more choices for learning and helps to kick start our economy."