Eyemouth harbour safety measures follow sea rescue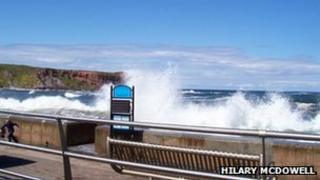 Rescue equipment is to be provided at a harbour where a teenager was seriously injured after being swept out to sea.
Katie MacLean, 14, was trying to pull a friend to safety when waves washed her off steps in Eyemouth.
It provoked a local campaign to have lifebelts or other rescue devices put in place.
After a meeting between Scottish Borders Council and Eyemouth Community Council, equipment will be put in place at the town's Bantry Wall.
The action follows an incident at the harbour in June this year.
Ms MacLean was trying to save her friend - who had been carried off by unusually high waves - when she too was swept away.
Local rescuers were quickly on the scene but there were no lifebelts or ropes to help them.
It is understood Ms MacLean remains in hospital.
Last month, locals and businesses demonstrated life-saving equipment at the beach.
A council review has now concluded, in consultation with the RNLI, that rescue equipment should be installed - possibly in a kiosk - near the Bantry Wall, as part of Eyemouth's community resilience plan.
Residents will be asked if they can help should another incident occur.
Improvements to the wall itself will also be considered and, although water safety education for local youngsters was already planned before the accident, a leaflet may now be issued to visitors too.