Eliska Novotna: Peebles 'sex games' killing appeal rejected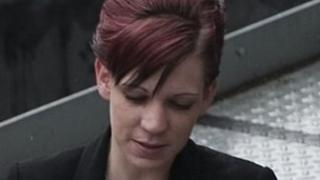 A woman jailed for nine years for stabbing her housemate to death after "sex games" went wrong has failed in a bid to have her sentence reduced.
Eliska Novotna, 23, tied up Arunas Ramanauskas, 39, with the cord of a dressing gown and blindfolded him before stabbing him six times at a farmhouse near Peebles.
Her lawyers said her sentence was too harsh as she had acted in self-defence.
Appeal judges ruled that was not the case and confirmed the sentence.
Lord Clarke said that the attack on Mr Ramanauskas was "ferocious" and went beyond self-defence.
"We do not regard the sentence in this case as excessive," he said.