Middlebie road closure compensation call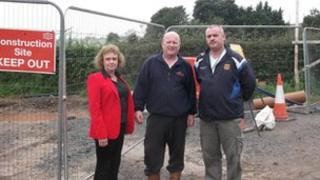 A call is being made to compensate villagers who have been forced to endure a prolonged road closure caused by water works.
Dumfriesshire MSP Elaine Murray has made the request to Scottish Water to recognise the disruption in Middlebie.
Dr Murray said the C60A had been closed since January - despite being first scheduled to reopen in April.
The company said the project had been held up by a number of factors including heavy rainfall.
A new timetable set out by Scottish Water shows the route will remain shut until October.
The Labour MSP said the delay was a major concern for villagers in Middlebie who have incurred additional fuel costs on a daily basis negotiating a several mile detour around the works site.
She is now calling for those affected to be compensated.
Scottish Water has apologised for the inconvenience caused by the road closure which is part of a wider £2.7m project to develop a new waste water pumping station and install new sewer pipes.
The company said the project has been held up because of a combination of factors - one of which was heavy rainfall.
A spokesman said the Middlebie Road was also built on top of peat and, therefore, they had had to lay new foundations before the carriageway could be reinstated.
He added that Scottish Water was a publicly owned company and did not pay compensation for disruption caused as a result of essential works.
However, the company said it was working with Middlebie Community Council to support a Fun Day in aid of building a community car park and also intended to carry out some tarmac works for local residents.