Dalbeattie, Huntly and Kirkconnel farms seek tenants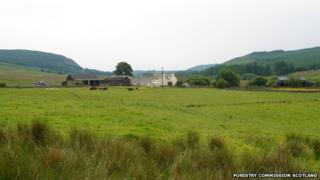 Rural Affairs Secretary Richard Lochhead has announced three new Forestry Commission Scotland "starter farm" opportunities.
The 10-year tenancies are available at two sites in Dumfries and Galloway and one in Aberdeenshire.
It follows a pilot initiative which saw two new farmers start up in Fife.
At the first New Entrants Summit in Edinburgh, Mr Lochhead said the future of the industry relied on new people getting a "foot on the farming ladder".
The latest tenancies are available at Falgunzeon by Dalbeattie and Carserigg by Kirkconnel, both in Dumfries and Galloway, and Upper Tullochbeg near Huntly in Aberdeenshire.
The "starter farm" programme is designed to enable new entrants to get a foothold in the industry.
Mr Lochhead said: "It is clear that the demand is there from the next farming generation and I am sure that these opportunities in Aberdeenshire and Dumfriesshire will spark a lot of interest.
"In addition I am pleased to announce that Forestry Commission Scotland expects to be in the position to unveil three more farms in Spring 2013.
"I am encouraged by the way the commission has worked closely with the industry to develop this initiative and to bring forward these opportunities for new entrants.
"It provides a template for others to follow and I hope that many more opportunities for potential farmers will open up on public land in the years to come."
The closing date for applications to run one of the three farms is 30 October.
NFU Scotland President Nigel Miller said the measure was welcome but suggested that traditional tenancies were still likely to remain the most important route into the industry.
"That makes it important that, as older tenants wish to retire, we provide a pathway for a new generation to take over," he said.
"When there is no direct succession in place, we need to establish how such farms can be made available to new blood and that letting to the new generation is a viable alternative to merging units or letting them to existing businesses.
"It is in the long-term interests of the industry that we come up with some positive views how new entrants can access any bank of land that becomes free."