Scottish Borders reduced road gritting plans defended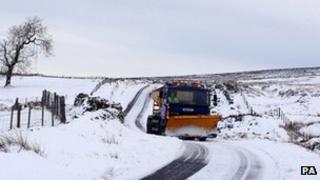 A council has said its road treatment scheme guarantees community safety despite cutting more than 100 miles from its "primary salting network".
Scottish Borders Council agreed to go ahead with the overhaul of its winter gritting plans.
It will see all A roads and most B roads remain on the priority list.
Councillor Gordon Edgar said a degree of flexibility had been built into the scheme to allow changes to be made if there were routes where problems arose.
"All the routes that were reduced have been checked and found to be under the degree of usage and priority that we would require for a main priority road," he said.
"There will be no reduction in the safety of the community because these roads, although they have been taken off the priority list, will be treated along with all the other roads that we do treat."
Concerns were raised by some councillors about roads in their areas where problems had been experienced in the past.
Mr Edgar said the council could adjust the scheme if it needed to do so.
"The decision was made that although the review was approved the officers would have the ability to monitor the situation and, where it is found necessary they could, in fact, alter the treatment," he said.