Dumfries and Galloway child obesity action 'needs time'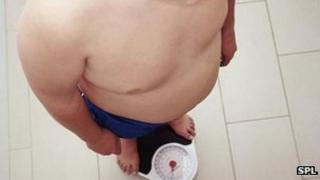 Health experts say a new approach to tackling child obesity in a region with one of the worst records in Scotland will take years to fully assess.
The Go For It service was launched six months ago in Dumfries and Galloway.
It came after figures showed nearly a quarter of school pupils in the region were considered to be overweight.
The programme is targetting both children and their parents, as well as a range of other factors which can have an impact on weight.
NHS Dumfries and Galloway health and wellbeing specialist Jo Kopela said the issue had to be handled with "sensitivity" and the work had to be "sustained over time".
"The Go For It service recognises that healthy weight isn't a single issue," she said.
"The living situation for each child and young person and their family is quite unique and can be very complex.
"So the service offers choice - it offers one-to-one or group sessions or a combination of both."
The main referrals to the programme come from school nurses carrying out weight screening in P1 and P7.
However, they can come from a range of other sources.
Ms Kopela said that while the service was "working hard" to "motivate children and families to make changes" there were other factors which needed to be addressed.
She said they included the availability and marketing of unhealthy food, social and cultural attitudes and the "long periods of inactivity" of some children.