Peebles flat fire 'started by candle'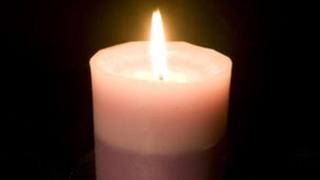 Three people, including a three-year-old child, were taken to hospital after a fire in a flat in Peebles.
The blaze was reported at an address in Elcho Street at about 03:00.
When firefighters arrived the property was "well alight". The occupants were out of the flat and were treated with oxygen at the scene before being taken to Borders General Hospital.
Residents were evacuated from nearby homes during the incident, thought to have been started by a candle.
A spokeswoman for Lothian and Borders Fire and Rescue Service said: "Early indications suggest the fire broke out as a result of a candle left burning in the property.
"This is something that we have seen before and we cannot stress enough if you use candles that you must make sure they are fully extinguished before going to bed.
"There was no smoke detection in the flat either and so it is fair to say the family had a very lucky escape."
She said the family had been alerted to the emergency by the fire "crackling and banging".
"When fire breaks out, particularly in the early hours of the morning, it can be very disorientating and the risks of being overcome by smoke are significant," she added.
"We believe every home should have a working smoke detector.
"It provides vital early warning if fire does break out, allowing you to escape from the fire safely and call us out."
She said LBFRS was "relieved" the family involved had managed to escape although they did suffer smoke inhalation.
"We wish them a speedy recovery and would take this opportunity to remind people of the need for vigilance when it comes to fire safety," she added.