Scottish Borders Council appeals over dumped records fine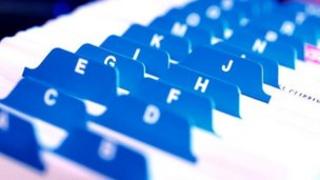 A council has appealed against the size of a £250,000 fine after employee pension records were found in a paper recycle bank in a supermarket car park.
The Information Commissioner's Office (ICO) imposed the penalty on Scottish Borders Council (SBC) last month.
The council said it had already paid the fine in order to receive a 20% discount on the total.
However, it confirmed it had appealed against the scale of the penalty to the Information Tribunal.
SBC said the ICO had until 2 November to file a reply to the appeal.
The case will then go to a three-judge panel for a decision, which is expected by the end of January.
A total of 676 files relating to SBC's Local Government Pension Scheme were recovered from the recycling bank in September 2011 after being spotted by a member of the public.
The council checked them against records and then securely destroyed them.
On imposing the fine the ICO described it as a "classic case of an organisation taking its eye off the ball when it came to outsourcing".
It said it had only been "good fortune" that the records had been found by "someone sensible enough to call the police".
SBC said measures had been put in place to ensure there was no repeat of the incident.
It added that it was "very disappointing" to receive such a significant fine from the ICO "especially in the current economic climate".