Dumfries and Galloway Council agrees recycling bin rise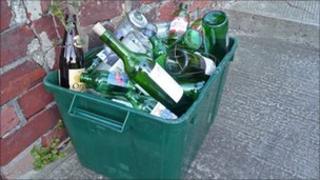 A local authority which currently provides just one wheelie bin to homeowners has agreed moves to give out five new waste recycling containers.
Last year a survey found Dumfries and Galloway Council was one of just two authorities in the UK which only collect a single bin.
Now it has agreed to move towards a multiple container system by 2015.
The changes are designed to meet targets set as part of the Scottish government's Zero Waste policy.
Director of Planning and Environmental Services Alistair Speedie said more information would be given in the run-up to the scheme's introduction.
"There will obviously be a communication strategy and educational processes," he said.
"Members are keen that we visit community councils and have roadshows.
"There will be a complete support exercise that helps the public understand what is expected of them."
The roll-out of the new collection system will see it implemented in Wigtown and Stewartry areas in 2014, with Nithsdale and Annandale and Eskdale following in 2015.
It is claimed the new process will create 39 jobs in total.
The planned change comes three years after the council scrapped a "blue box" paper recycling scheme.
It moved to one wheelie bin after the opening of an Eco Deco plant, which takes mixed waste and breaks it down into reusable components.
Opposition Labour councillors claim the Conservative-SNP administration has been forced into a costly U-turn.
However, council leader Ivor Hyslop said they had no option but to bring back kerbside recycling to meet new legislation.