Annan industrial park work under way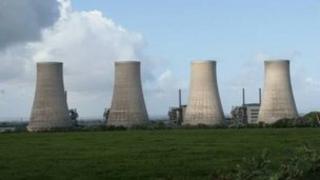 Work has started on a £4.5m industrial park in Annan to help reduce the economic impact of the closure of the Chapelcross nuclear plant.
The initial development will include two office units and five industrial units, to be completed by spring 2013.
Scottish Enterprise's David Byers said it was an "important milestone" in the project approved earlier this year.
The Chapelcross nuclear plant ceased generation in 2004 and the lengthy defuelling process is ongoing.
Scottish Enterprise, the Nuclear Decommissioning Authority and the European Regional Development Fund are working together to create the industrial park.
Mr Byers said: "These units will offer much-needed office and industrial space in the region, and allow ambitious companies with growth potential the space they need to develop.
"It's vital that we and our partners help enhance the region's business infrastructure to provide further accommodation in which companies can expand and diversify."
Jonathan Jenkin, of the Nuclear Decommissioning authority, added: "This development will provide much-needed business space in the Gretna-Lockerbie-Annan corridor, leaving a positive legacy in the area once decommissioning at Chapelcross is completed."
Dumfries and Galloway Council's Ian Carruthers said it would help with the area's regeneration masterplan and allow "important businesses" to grow.
"The development of the industry park now opens up opportunities for such businesses, which will help create much-needed local employment," he said.