Dumfries and Galloway flood protection plan drawn up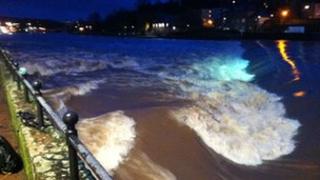 New guidelines have been drawn up to protect future housing developments in Dumfries and Galloway from flooding.
It has been estimated that about 4,000 properties already lie in "at risk" zones - that is roughly 6% of homes in the region.
The local authority said the consequences of flooding could be both devastating and deadly.
As part of efforts to reduce the risk to new housing in the region, new draft planning guidance has been published.
The underlying aim is to limit the threat of flooding to future property projects by ensuring that homes are not built on land which is deemed to be at risk either now or in the future.
According to the guidance document, if any part of a proposed development site lies within a natural flood plain or close to a water body such as a stream, river, or open coast then the flood risk must be considered.
The potential for flooding from all other sources such as old mining operations and blocked culverts must also be taken into account.
It concludes that where a potential threat exists, a flood risk assessment should be submitted as part of the planning process.
Any future housing developments should be located in areas where they do not exacerbate problems elsewhere, and drainage systems should be able to cope with storm events.