Dumfries and Galloway councillor attendance varies 32%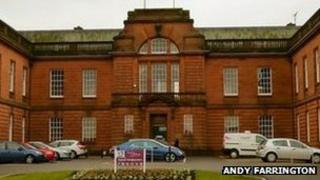 Figures published on a council website show the varied record of attendance at meetings among its members.
The rates for councillors in Dumfries and Galloway range from a perfect 100% for two councillors - one recently elected - to just 68%.
The authority has 47 members covering 13 wards across its area and is run by a ruling Conservative-SNP coalition.
Average attendance rate at meetings among its councillors sits at a little more than 88%.
The records are contained in individual profiles of the authority's members.
The councillor with the worst reported attendance is Labour's Sean Marshall who has missed about one in three meetings.
He told the BBC that his job had changed recently and required him to travel more.
However, he said he had now managed to co-ordinate his diary better and believed that would see his record improve.
"Whilst it is important to attend council committees, the most important priority for me is to be there for the people that elected me," he said.
"I am trying to balance council and work priorities and I have managed to do that now.
"The more important aspect for me is dealing with the day-to-day issues that the electorate want."
He did voice frustration at the lack of decision-making power in his local Annandale and Eskdale area committee but said his attendance record would improve in the months to come.
'Fortunate position'
At the opposite end of the table, with a perfect attendance record, is the SNP's Jim McClung along with Conservative Graeme Tait who was elected at a by-election in November.
Mr McClung said he appreciated the difficulties faced by colleagues trying to attend meetings while having a full-time job.
"It is my view that having been elected to represent the residents of my ward in May it is my duty to attend as many of the committee meetings where I am a member and full council meetings as possible to ensure that their interests are as fully represented as possible," he said.
"I will continue to attend as many of these meetings as possible.
"Being in the fortunate position of being able to devote as much of my time as possible to carry out my council duties I often marvel at the length of time and effort that other councillors devote to council business while also holding other paid employment."