Pakistan death worker Khalil Dale wins Robert Burns award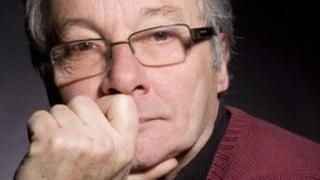 A Dumfries-based Red Cross worker who was killed in Pakistan last year has won a major award.
Khalil Dale was named the posthumous winner of the 2013 Robert Burns Humanitarian Award at a ceremony in Alloway in Ayrshire.
Mr Dale, who was born in York but lived for many years in Dumfries, spent 30 years working in global trouble spots.
He was abducted in Quetta, in Pakistan, on 5 January last year and found dead on a roadside months later.
The Burns award recognises individuals or groups who have "saved, improved or enriched the lives of others or society as a whole, through personal self-sacrifice, selfless service or 'hands on' charitable work".
Receiving the award from Minister for External Affairs and International Development Humza Yousaf, Khalil's brother, Ian, said his brother would have been humbled by such recognition.
"Khalil had a deep affinity with Scotland and, to him, Scotland was always his home, so he would have been delighted to be named winner of the Robert Burns Humanitarian Award," he stated.
Mr Dale said the award for his brother was a "testament to the lives he changed" and the legacy he had left behind.
"Khalil was loved and respected by many people and I am extremely proud my brother - and the work he carried out over many years to make a difference for others - has been recognised in such a wonderful way," he said.
Mr Yousaf said the award recognised the "tireless efforts" of those who followed in the footsteps of Burns to celebrate "freedom, liberty and the brotherhood - and sisterhood - of all humankind".
"Khalil Dale fearlessly dedicated his life to helping others, demonstrating deep-rooted Scottish values of compassion and empathy," he said.
"It is an honour to present his family with this award.
"I think we can often take our privileges for granted and I believe we should take encouragement from all this year's nominees to do better to help those less fortunate, both at home and abroad."
David Anderson, chief executive of South Ayrshire Council, who chaired the judging panel, said it was a record-breaking year for entries and it had been difficult to chose three finalists, "never mind choosing the final winner".
The other shortlisted finalists were the Very Reverend Dr John and Mary Miller, of Castlemilk, in Glasgow, for their work in Zimbabwe; and Margaret Mills, from Selkirk, a project worker with the charity Children 1st who has dedicated her life to helping children and their families.
"While Margaret, John and Mary would have been equally worthy recipients of the award, Khalil's lifetime commitment to helping some of the most vulnerable people in the world really stood out for the judges," said Mr Anderson.
"It's clear from the accolades and tributes from those who knew him that he touched the lives of everyone he ever met.
"Khalil was a true humanitarian and his legacy lives on thanks to the Khalil Dale Memorial Fund, which will be used to do exactly what he set out to do every day of his life - make the world a better place."
His family has donated the £1,800 that accompanies the award to the Khalil Dale Memorial Fund.