Selkirk £1.2m town centre investment boost welcomed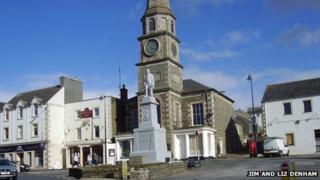 The allocation of £1.2m in funding for town centre improvements in Selkirk has been hailed as a welcome boost.
Historic Scotland awarded £750,000 to the scheme this week, while Scottish Borders Council has also committed £450,000 over the next five years.
It is hoped preserving, conserving and brightening up the centre of the town will help attract more visitors.
Selkirkshire councillor Vicky Davidson said it was a case of enhancing an already appealing part of the region.
"I think what it shows is that Historic Scotland have recognised that we have got a very attractive and historic town centre but we need help to conserve the buildings and make sure it stays like that," she said.
"One of the priority buildings that we want to tackle is Walter Scott's courthouse in the very centre of the market place.
"Every year the features on the stonework get less and less because we keep having to take the unsafe bits down, so actually it really needs tackled urgently."