Galashiels man follows in grandfather's 500-mile footsteps for charity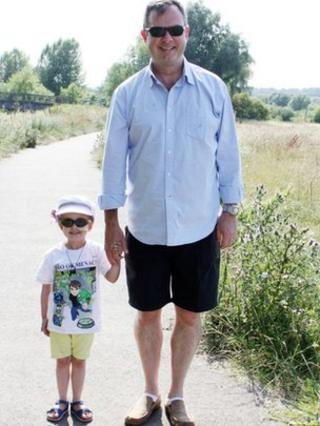 A Galashiels man whose granddaughter has cancer is to emulate a 500-mile journey his own grandfather made on foot and bike in search of work.
Alistair McIntyre, 54, will make the trek from Fife to Kent this summer.
His grandfather, miner Jimmy McIntyre, made the same journey in 1933 in a desperate search for employment.
He decided to follow in his ancestor's footsteps after his granddaughter, six-year-old Belle McIntyre, was diagnosed with neuroblastoma in 2011.
He has set up the In Jimmy's Footsteps appeal, which will raise money for Cancer Research UK.
His grandfather set off on the "challenge of a lifetime" 80 years ago - leaving behind his pregnant wife and young son at their home in Fife.
Joined by two brothers and three friends, he first walked to Newcastle where they "borrowed" a bike.
They then walked or cycled their way to Deal in Kent.
When they reached London, Jimmy left the bike at a police station with a note requesting it be returned to its rightful owners in Newcastle.
The walk from Fife to Kent will take place in June and July.
A number of other fundraising events are also planned.
Mr McIntyre said: "This challenge is a celebration of two lives.
"Belle is only six years old and has already undergone every type of treatment you can imagine.
"Jimmy McIntyre went on to help and support a great many miners, working with the union to secure welfare for those who were injured or suffering."
He said the way they had coped with the situations they found themselves in showed "character, strength and a determination to live".
"Many people's lives are touched by cancer and by funding research we can increase our chances of fighting this terrible disease," he added.
Since being diagnosed with neuroblastoma - a cancer of the nerve cells - Belle has been undergoing treatment at the Royal Marsden Hospital in Sutton as part of a clinical trial.
About 90 children are diagnosed with the disease each year in Britain.
Belle, who lives in Canterbury in Kent, has been treated with chemotherapy, radiotherapy, surgery and a stem cell transplant.
Mr McIntyre added: "Belle is bright, funny and incredibly brave.
"The whole family has shown amazing strength and resilience during this difficult time and they are an inspiration to us all."
His walk will begin near to the Lochore Mine where his grandfather once worked.
He hopes people will join him on sections of the walk.
Donna Marshall, Cancer Research UK's volunteer manager in the Borders, said: "Jimmy and Belle have both shown remarkable determination and I know this will be matched by Alistair and his resolve to raise as much money as possible for life saving research.
"In Jimmy's Footsteps is a wonderfully imaginative fundraising idea and everyone at the charity wishes Alistair and his supporters well as they embark upon their appeal."