Dumfries badger sett disturbed in woods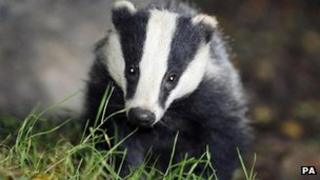 The Scottish SPCA is appealing for information after a badger sett was disturbed in woods near Dumfries.
It was alerted when a dog walker spotted the dug-out sett at Coldstrand Wood near the village of Terregles.
Under the Protection of Badgers Act 1992 it is an offence to dig for a badger or damage a badger sett.
Scottish SPCA Ch Supt Mike Flynn said the area was a well-known badger habitat and that the organisation was "very concerned" by the incident.
"We observed the sett on 15 January and found a large area of recently disturbed soil," he said.
"The practice of digging out badger setts is linked to badger baiting, which is an abhorrent and criminal activity that is prevalent in some parts of the country including Dumfries and Galloway."
He said the Scottish SPCA's special investigations unit had secured a number of convictions for such offences in the past 18 months.
"This sends a strong message that we're determined to pursue those involved in the persecution of badgers," he said.